OBITUARY-ROBERT W. LUM
"Knifemaker and designer Bob Lum passed away on December 4, 2007 at age 64. As the artist and maker that began the "tanto" style knife from antique versions from Japan, he will be remembered as a considerate, kind and wonderful friend in the knifemaking world, besides being an excellent craftsman and designer. There are no custom Bob Lum knives available through this website. The family has chosen to maintain this site as a tribute to the great work that he produced.
Bob was born and raised in Astoria, Oregon by his parents, the late John W. Lum and Clara Wong Lum. He married his wife, Jean, in April 1979 and they had one son, Eli, and is also survived by many, many relatives mostly residing in the Pacific Northwest.
Welcome
This website has been designed to show the style, variety and quality of my knives. I make everything from simple using knives to deluxe high grade collector knives. I like to integrate good design, ergonomics, and balance with high quality construction. I am continually working on new designs and improving on the older ones for I am always trying to find better methods and ideas to improve what I do. We will update the site from time to time to show more pictures of my designs as they are developed.
Designing knives is one of the best parts of knifemaking to me. I enjoy using my creative ideas to make a high quality product. Therefore, I do not make other knifemakers designs. However, within the framework of what I do, there is plenty of room for individual input. I offer a lot of options as to material and sizes for my knives.
I have been making knives since October 1976 and I am a full time maker. I grew up in Astoria, Oregon. Fishing and hunting in the Pacific Northwest has given me an appreciation for a fine knife. Part of my production goes toward the knife shows that I attend throughout the year and the rest of my time goes toward orders. I am not a high production shop for I try to do as much as possible in house. I am currently accepting orders on a priority basis.
I will do my best to make a knife that you will be proud to own, whether you are a collector or use your knife daily.
Bob Lum
&nbsp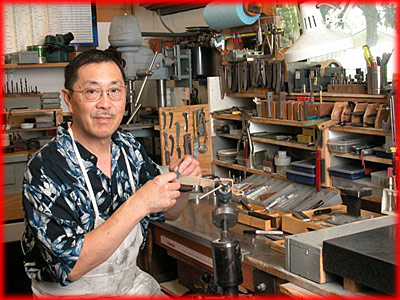 Bob Lum Knives, Made in Oregon, USA